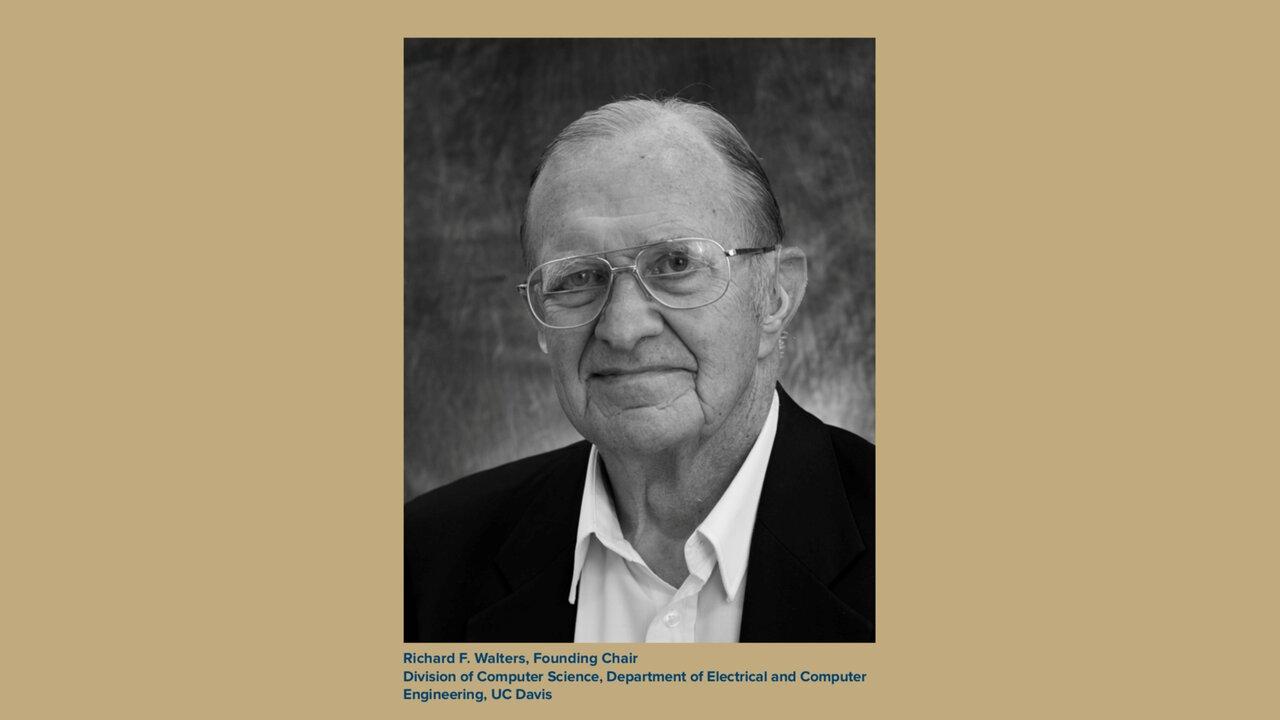 The UC Davis Department of Computer Science mourns the passing of its first chair, professor emeritus Richard "Dick" Walters. A visionary in his field, a leader at the university, an exceptional teacher to his students and friend to his colleagues, Walters is remembered by the immeasurable impact he had on the many people he taught, mentored and worked with in more than 50 years at UC Davis.
"Our department simply would not exist had it not been for Dick's leadership," wrote professor Norm Matloff in a tribute. "He was a professor's professor—a scholar with wide-ranging interests who reveled in the sense of community that academia engenders."
Trained as a geologist, Walters fell in love with teaching as a graduate student and became interested in computers while working in the oil industry. Though he planned to return to academia as a geology professor, his former next-door neighbor encouraged him to take his computer skills to medicine, and the two of them joined the newly-formed UC Davis Medical School in 1967.
It was there he established his reputation as a pioneer in research. In health informatics—the study of applying information technology to healthcare—he was an early advocate for electronic medical records while conducting research in maintaining, organizing and accessing healthcare databases.
His true passion, however, was teaching. He started at the medical school and soon found himself teaching introductory programming classes at the main Davis campus as well. He quickly became known as a dedicated teacher who was always looking for new ways to help students learn, especially with the help of technology.
"Dick could speak the language of users," said professor Phil Rogaway. "The problems he cared about were always pragmatic and closely connected to human beings."
This made him well ahead of his time in developing technology for distance learning. A remote collaboration tool he developed for language classes in 2001 featured a real-time chat, a sharable whiteboard, file sharing and collaborative files long before the advent of Zoom, Google Docs or Canvas. Throughout it all, his focus was making sure the technology helped students learn.
Perhaps his greatest legacy at UC Davis is the Department of Computer Science itself. He kickstarted the computer science graduate group in the late 1970s and served as the first chair of computer science division of the Department of Electrical and Computer Engineering in the mid-1980s. Though the process was difficult, Walters' leadership played an important role in paving the way for the department to be officially formed in 1991.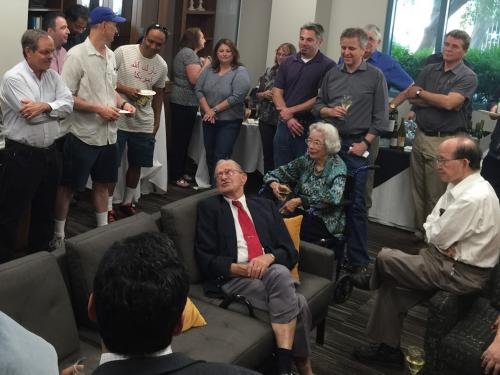 Walters ended up holding academic appointments in eight departments across UC Davis in his long career. He often joked that despite this, he had never taken a class in any of the fields.
He retired in 2000, but never truly left the community. Many recall seeing him in Kemper Hall more often after his retirement and he was an active member of the UC Davis Emeriti Association, serving as its membership chair for several years.
"Dick was retired, but far from gone," said professor Nina Amenta. "He loved to come in to work, be in the department he had helped create and work with the emeritus organization."
He also continued to impart his wisdom through friendly casual chats in the hallways or by the bike stand outside Kemper Hall, as well as by teaching classes and workshops for younger faculty.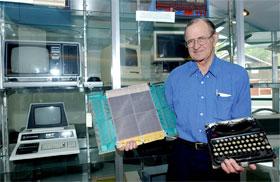 "I have fond memories of a generous man," said professor Michael Neff, who took one of his classes for faculty. "We'd often run into each other in Kemper and it was always nice to exchange a hello and a chat. He had a deep, positive influence on the department."
He is also responsible for the permanent Computer Science Museum display in Kemper Hall, made of old computers he had collected since the 1970s. Above all, he is remembered for his warmth, kindness and sense of humor, as well as his advice on teaching and leadership.
"He was an award-winning teacher who was adored by his students, but most importantly, a great guy who helped cement the collegiality that makes the computer science department a great place to work," said professor emeritus Charles "Chip" Martel. "He is missed by all who knew him."
Category