Team Gunrock Hosts Open House In Preparation for Amazon Alexa Challenge
UC Davis' Team Gunrock hosted an open house on Thursday, January 23, in preparation for the Amazon Alexa Prize Socialbot Grand Challenge 3 this spring.
Community members had the chance to talk to the team's social bot, Gunrock, while allowing the team to collect feedback they can use to improve it ahead of the competition.
Gunrock, named after UC Davis' mascot, is an artificial intelligence system commonly known as a chatbot or social bot. It's designed for "chit chat" with humans, asking about their interests, hobbies and opinions while maintaining an engaging, two-sided conversation.
On the open day, participants were led into a room with a microphone and Alexa device. Participants then pressed a button on the Alexa device and said, "Alexa, open Gunrock" to begin the conversation.
The bot is programmed to chat with users about a wide range of interests, from animals to movies to food and sports, and can recite fun facts about each while offering its own opinions on different subjects. For example, Gunrock's favorite food is orange chicken and its favorite movie is Star Wars: The Empire Strikes Back.
The open day is a way for Team Gunrock to conduct field tests during the competition. Team members monitored each conversation, looking for places where the bot misbehaved or had limited knowledge. By watching the interaction, the team gets the chance to observe the user's intonation and facial expression, which provide more information than just listening to the audio. Participants were also asked to fill out a short survey about their satisfaction, the bot's performance and things they liked or disliked.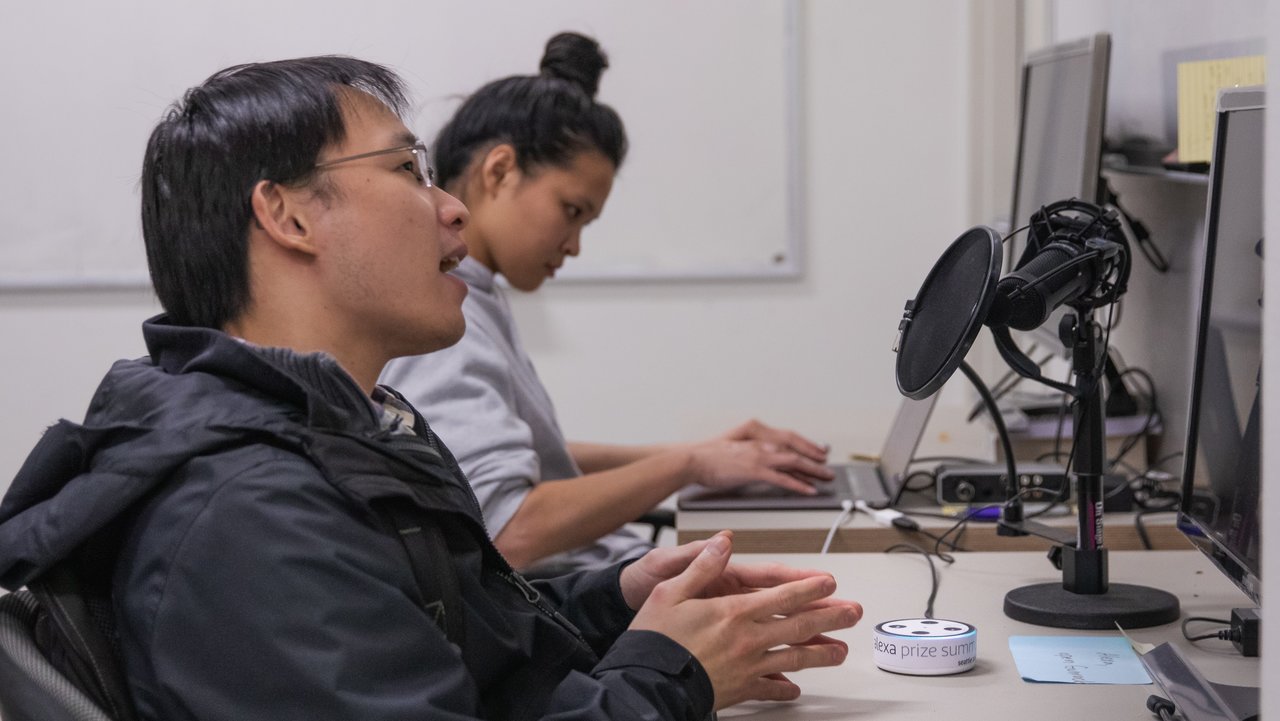 From the open day, the team realized they need to improve topic switching, making sure the bot talks about the topic the user really wants to talk about. They also plan to improve question handling so the user's questions aren't being ignored, as well as reduce response time (also known as latency) to improve the user experience, change the dynamic of user-bot interaction and refine Gunrock for the competition.
As defending champions of the 2018 Alexa Challenge, Team Gunrock hopes to build on its success and raise the bar they helped set.
"We can't rest on our laurels," said team member and linguistics Ph.D. student Sam Davidson. "We have a starting point of where we left off last year, but we have to try new things if we want to compete with other teams working with fresh ideas."
Team Gunrock is a 10-person team advised by computer science assistant professor Zhou Yu and comprised of graduate and undergraduate students from computer science and linguistics.
The team plans to host more open days as the competition moves forward so they can collect more feedback. The next open day will be announced on their social media.
Primary Category