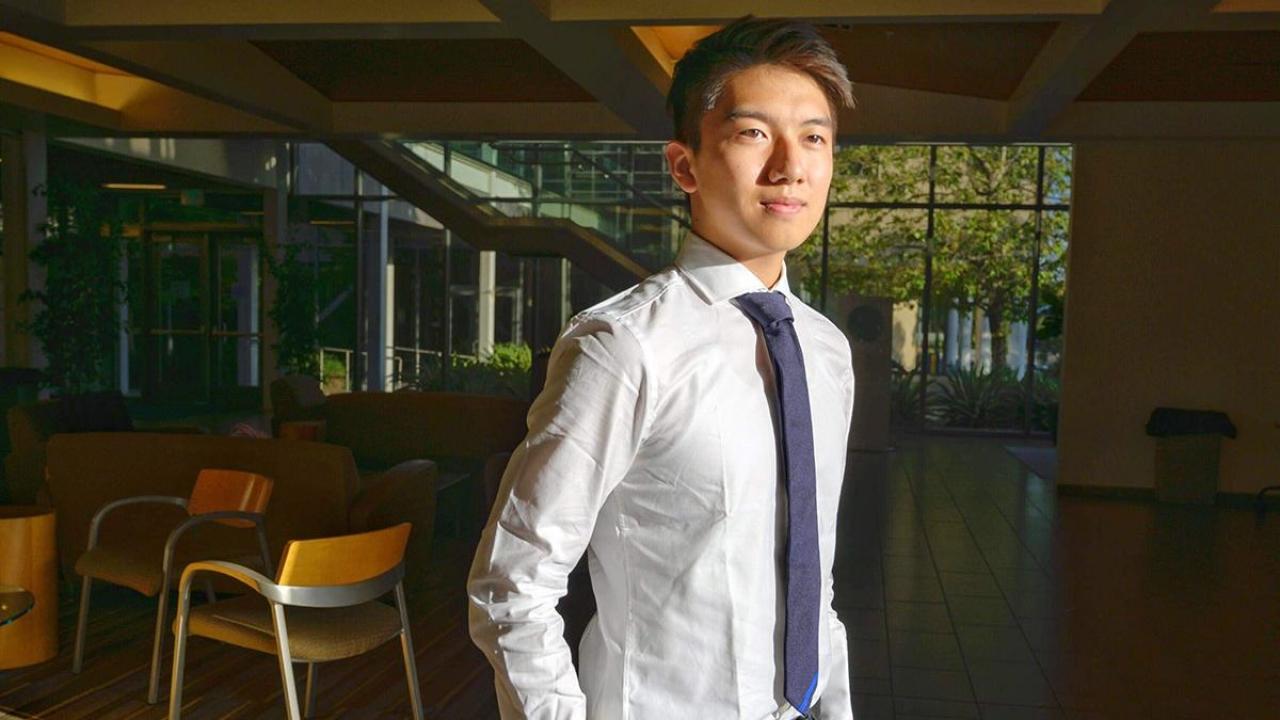 Originally posted by the UC Davis Institute for Innovation and Entrepreneurship.
Andy (Che-An) Wu is a second-year computer science major whose career goal is to become a tech-entrepreneur and make a huge difference in this world. He is always looking for opportunities to become a better programmer and to make connections with other passionate individuals. Wu's interests include software engineering, app development and artificial intelligence.
Growing up in Taiwan and later moving to Silicon Valley sparked his interest in entrepreneurship, which he believes is the most effective way to solve problems and positively impact society. This belief was strengthened in high school when he co-founded a tutoring company with a friend and donated the $3,000 profit to the Sankara Eye Foundation to sponsor 87 eye surgeries in rural India. In the future he wants to combine his passion for entrepreneurship and love for computer science to start his own company.
Additional interests include playing sports, traveling and spending time with family. Wu spent his first 12 years in Taiwan and is trilingual: Chinese, Taiwanese and English. He expects to receive his B.S. in June 2021. He is a part of the Entrepreneur Quest: Undergraduate Internship Program (EQUIP) at the UC Davis Graduate School of Management.
Describe your project or venture.
I am currently working as an Android platform engineer for iNGAGE, a local startup here in Davis. iNGAGE creates an ever-expanding platform to entice open-minded debates and have users see perspectives far beyond their own. My primary responsibility is to add more features to the mobile application and improve existing codes. I also help with the management and marketing side of the business, along with the founder, and helped the team compete in the UC Davis Big Bang! Business Competition.
This summer I have a three-month internship as a software engineer in MVP Fastlane in Taiwan. MVP Fastlane is a software firm that offers engineering solutions to companies and helps expand their engineering operations. My role includes developing new user-facing components with React.js, building reusable code and libraries in JavaScript, and ensuring the technical feasibility of UI/UX designs. This opportunity to work with a team of 20 top-notch software engineers will allow me to deepen my technical skills and work on large and impactful projects. I will also have the chance to work alongside the founders and learn what it takes to successfully start and run a company.
On my own, I am building some projects to enhance my programming skills and learn more about artificial intelligence. Recently, I built a spell checker that detects spelling errors and automatically corrects the mistakes, which uses the knowledge related to natural language processing that I learned in class. I am also planning to build a mobile application that will reinvent the way professionals connect with each other and that helps them leverage and maintain their network.
What's important about your field of study—and where do you hope to take it?
I've always held a deep fascination for computers and how they work, from learning how hardware functions through reverse engineering, to teaching myself various programming languages, to participating in robotics competitions and hackathons. I marvel at how complex problems could be solved through the use of powerful programming algorithms, and how rapid technological breakthroughs, such as virtual reality and artificial intelligence, have changed our lives. As I study the minds of successful Silicon Valley entrepreneurs and become more experienced in the field of computer science, my goal to become a tech-entrepreneur who strives to redefine possibilities and better society with technological innovations is taking shape.
What are you most passionate about?
Ever since I moved to the United States seven years ago, I have wanted to combine my deep love for computer science with entrepreneurship. In both my internship and education, I am most passionate about deepening my technical background and forming long-lasting connections with like-minded peers.
What was the most important thing you learned during EQUIP?
"If you dream it, you can make it." This is the motto I hold myself to every day now. No matter how crazy or challenging your dream seems, just believe in yourself and work harder than anyone else to make it come true. When challenges arise, I will always put in 200% effort and overcome them.
What is the most unexpected advice you received during the program?
To share your entrepreneurial ideas, whatever they are. Don't be afraid that other people will steal and copy your ideas. By sharing and discussing them with other people, we get the precious opportunity to evaluate our ideas from different perspectives and the chance to improve them. Successful entrepreneurs are those who dare to dream and can effectively execute their ideas and turn them into real values.
What is the most important thing you discovered in EQUIP?
The connection I made here, with both the program's organizers and my fellow students. I became friends with many like-minded and entrepreneurial people who have been extremely supportive, and who I still keep in touch with. I also learned to really open my mind and step out of my comfort zones to build connections.
How will your experiences help you to change the world?
The skills, connection, knowledge and experience I gained from this program will help me become a successful tech-entrepreneur when I graduate. I will use my business and technologies to make the world a better place and make people's lives easier.
How will your experiences as an EQUIP Scholar shape your professional future?
EQUIP taught me how to network, how to be professional, how to be a creative worker and, most importantly, how to be someone who actually gets the work done. All of these are exactly the soft skills that a software engineer needs, in addition to technical skills.
Anything else you'd like us to know about you?
I am always looking for ways to learn more and improve myself. I am not afraid of putting in the work and time, and I will overcome any obstacles that stop me from becoming a great entrepreneur!
Category
Tags